My little man, like many little boys, is very fond of toilet humour. He finds anything to do with bottoms, underpants and toilets hilarious. You only have to mention the words and he is in fits of laughter.
I don't understand it myself and before I was a Mum to a little boy, I thought it was something that was learned. I was so wrong! It is something that is just in their genetic make up. We did nothing to encourage the toilet humor (unless my husband did so when I wasn't in ear shot) and yet my son finds it so hilarious!
So… combine a story about underpants (pants as they are referred to in this book) and an adventure to the moon and we are hooked.
Poor Zoe is hanging out her clean pants when a huge gust of wind sweeps her and her dog Beans up into space where they land with a "bump on the moon".
Whilst on the moon, Zoe and Bean have an "upside down party with a moony mole" and sing "here we go round the moony moon" until; while having a rest looking at the stars, Zoe thinks of a way to get home.
This is a delightfully descriptive story with just enough humor to create a few giggles but not too many that it can't be read at bedtime ;-).  The illustrations are beautifully simple and clear.
Book Details:
Chloe and Mick Inkpen
ISBN: 978-0230748477
Format: Hardback
Publisher: Pan Macmillan, June 2012
RRP: $26.99 (aud)
Suitable for ages: 3-5 years
You might also like: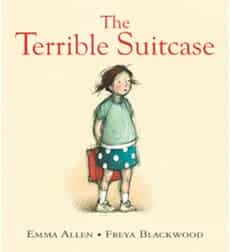 Suggested follow-up activities-play and craft ideas for children:
Space-themed Sensory Tub (One Perfect Day)
Moon Craft (Fantastic Fun and Learning)
Moon phase puzzle, moon viewer & moon phase calendar (What do We Do All Day?)
Space Small World Play (Happy Whimsical Hearts)
20 Space Craft ideas (including Galaxy Playdough ,Space Baths and lots of rockets) from Red Ted Art
Make Your Own Rocket (Boy Mama: Teacher Mama)
Blast Off Space Game (Nurture Store)
Rocket Snack Packs (Sun Scholars)
10,9,8..Blast Off- counting backwards (Boy Mama: Teacher Mama)
Solar System Pavement Drawing (Danya Banya)
Space Costumes (Danya Banya)
Playdough Stars (Lessons Learnt Journal)
Space-themed Birthday Party (One Perfect Day)
Night Sky Reading Nook (Fantastic Fun and Learning)
Rocket Shape Capers (Craftoart)
Paper Mache Light Up Globes- What Earth would look like from space (Housing a Forest)
Glow Rocks and Moon Dough (Bath Activities for Kids)
Homemade Geodes (Growing a Jeweled Rose)
For more inspiration, visit
Rainy Day Mum's Space-themed Pinterest Board
or
Things That Go! In Space series for a round up of space-themed books and activities (The Good Long Road)