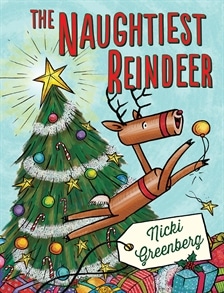 The embossed, glittery hardcover makes this a beautiful book to add to your Christmas collection.
I have always found Nicki Greenberg to be quite an entertaining writer, and with a smooth rhyming text this particular story is fun to read aloud and lends itself beautifully to some great characterisation that will have your children laughing along.
Rudolf the reindeer was lying in bed with a runny red nose and an ache in his head.
'I'm sorry,' he groaned. 'I just can't pull a sled. You'll have to ask my sister Ruby instead.'
The storyline is quite appealing to children because the main character, Rudolph's sister Ruby, is quite a naughty little thing. She is wild and silly, and the other reindeer are mortified when they find out she will be joining them on their Christmas Eve flight.
But with Rudolph ill, Santa doesn't have a choice. He soon discovers that the reindeer were right to warn him. While Santa is delivering presents, Ruby sneaks into houses where she leaves muddy prints, spills milk, tangles tinsel, raids fridges and ruins Christmas stockings.
The illustrations are rich in colour, and Nicki's interpretation of a reindeer is quite humorous also.
Despite the chaos there is a happy ending for everyone, which is just how every good Christmas story should end.
The Naughtiest Reindeer Book Details
Author and Illustrator: Nicky Greenberg
ISBN: 9781743313046
Format: Hardcover
Publisher: Allen & Unwin, October 2013
RRP: $15.99
Suitable for ages: 3+