For All Creatures by Glenda Millard and Rebecca Cool
Glenda Millard and Rebecca Cool, the creators of Isabella's Garden, have joined together again to produce a new book, which is equally as delightful as their first collaboration.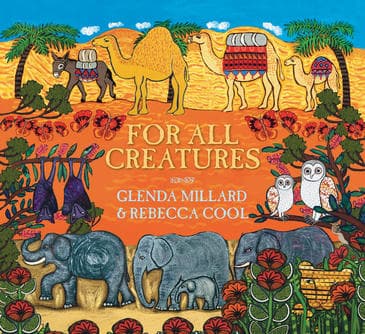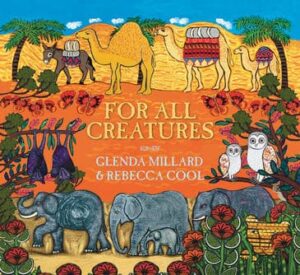 The title of this book, For All Creatures, really speaks for itself. Written using a series of four-line stanzas, it is a divine ode to all the creatures that roam our earth, from fleas to whales.
Glenda Millard is a magical wordsmith who has written a book that is perfect for reading aloud. There is a familiar repetition that takes place throughout the book, with each verse taking on a particular structure and ending with the phrase, 'We are thankful.'
On each page, Glenda poetically describes a different creature.  Rather than explicitly naming each creature, she chooses to describe their characteristics with evocative imagery and adjectives.
'For weavers and wisps.
For silk spinners and spiderlings,
Lace and loveliness
And for webs, we are thankful.'
Coupled with clever alliteration, the verses feature a creative selection of the most beautiful English words, which will surely evoke tingles and warmth in any reader of this book. Within this beautiful prayer-like text, young readers will surely be introduced to some new vocabulary, from technical (metamorphosis) to playful (scallywags).
'For dawdlers and dampness.
For spirals, shells and slowness,
Smallness and shyness
And for scribbled silver secrets, we are thankful.'
Rebecca Cool's rich and detailed illustrations complement the text exquisitely. She has created an earthy, folk-art style using a combination of acrylic paints and fabric collages.
For All Creatures offers families a reminder to be thankful for everything small and large, and an appreciation for nature. It is also an ideal resource for the classroom, providing inspiration for creative and expressive writing.
SOME FOLLOW UP ACTIVITIES:
Games: Read the text aloud to your child without them seeing the pictures. See if they can guess which creature you are describing.
Language and writing: Create a list of creatures that haven't been featured in the book and follow Glenda's verse structure to add some extra pages to the book.
For E.g.
For marsupials and might
For strength, stoutness and solitaries
Hair and herbs
And for diggers after dark, we are thankful!
Nature: Visit Wildlife4Kids for some ideas that will encourage your children to appreciate wildlife.
Craft: Create a God's Eye as a reminder to be thankful, and to watch over the creatures in your life.
BOOK DETAILS:
Author: Glenda Millard
Illustrator: Rebecca Cool
ISBN: 978-1921529818
Format: Hardback
Publisher: Walker Books Australia, August 2011
Suitable for ages: 3+