The Tall Man and the Twelve Babies
I've been known to reach for a book that is deep and meaningful, but I also enjoy a light-hearted book too. The Tall Man and the Twelve Babies is just that- a good, entertaining story. Children often enjoy seeing adults make fools of themselves, whether it be in real life or in a book, so this story will have children thoroughly amused.
A tall man lives with twelve babies. All the girls share the name Charlene and all the boys share the name Alistair. That's quite amusing in itself really.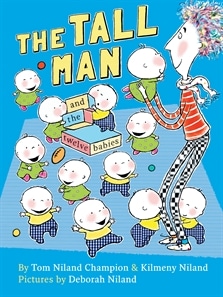 One day, in the midst of mischief, the tall man finds himself shut out of the apartment with all the girls. The Alistairs are on the other side of the door. In his attempt to get back into the apartment, the tall man gets stuck in the cat flap and relies on all the babies working together to get him out. Before that happens he gets pushed and pulled in all directions. The girls use his long legs as a slide and the boys play with his hair.
The illustrations are particularly eye-catching. They are bold and colourful with the use of a wide range of textures and patterns such as lines, dots, and checks.
The repetitive use of adjectives makes for a great read-aloud story:
The Charlenes surfed on his long, long legs
The Alistairs played with his curly, curly hair
Not only will children be giggling along with the story but they're also sure to be counting along too- all the way to twelve!
Book Details:
Author: Tom Niland Champion and Kilmeny Niland
Illustrator: Deborah Niland
ISBN:978-1742371153
Format: Hardcover
Publisher: Allen & Unwin, November 2010
Suitable for: Ages 2 +
Awards: CBCA Early Childhood Book of the Year 2011- shortlisted.