Rudie Nudie by Emma Quay
There's nothing more symbolic of childhood than children running around 'rudie nudie' after their bath.
The delightful illustrations are pencil drawings with photo-shopped patterns and colors of soft, pastel peaches, greens, and blues. Emma has captured the true essence of toddlers in this book: joy, freedom, exploration, and innocence.
The story is beautifully rhythmic, told with the use of both playful (roly-poly, loop-the-loop, and tickly under there) and comforting words (kiss, hug, squeeze, hold, nice, and snug).
The title page shows two children excitedly taking off their clothes for the bath. After a fun play in the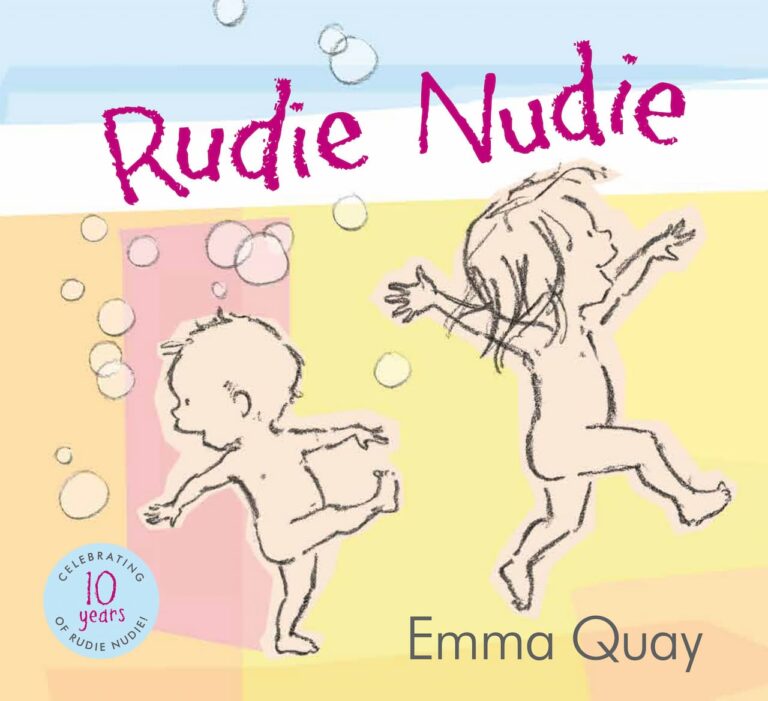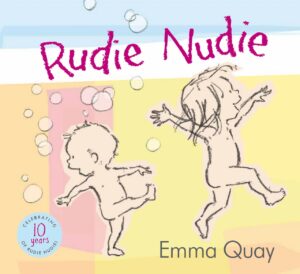 bubbles, the children quickly escape their mum's hold as she tries to dry them. The girl makes it out the door and is promptly followed by her little brother, who imitates her every move.
They roll, fall, dance, jump, spring, run, prance, and spin around the house and into the backyard. As they do, they explore with curiosity the different textures of the floorboards, the rug, the doormat, the sheets, the tree branches, and the leaves against their bare skin.
We are left with an image of these perfect cherubs nestled and peaceful in bed.
Parents will delight in this book, as will children who will giggle along with the cheeky playfulness of the children.
Book Details
By Emma Quay
ISBN:978-0733323355
Format: Hardback
Publisher: ABC Books, November 2011
Suitable for ages 18 months +
Awards:
CBCA Early Childhood Book of the Year 2012- shortlisted
Speech Pathology Australia Book of the Year for Young Children 2012- shortlisted