Happy Birthday Eric Carle: An Iconic Caterpillar Childhood
My Little Bookcase is celebrating the birthday of talented and accomplished author and illustrator, Eric Carle. We're thrilled that literary wonder-woman Tania McCartney could join us to share her sweet memories of her favourite Eric Carle book.
Tania, herself, is an author and publisher, and we especially love her Riley the Little Aviator series for children. She founded the well-respected Kids Book Review website, where you can find a comprehensive list of reviews for children's books. This wonderful resource also includes teachers' notes for books and interviews with authors and illustrators.
The Very Hungry Caterpillar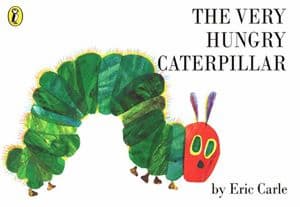 The Very Hungry Caterpillar is undoubtedly Eric Carle's most famous and most beloved book creation. Its vibrancy, cleverness and message of transformation aren't lost on adults nor children––and even the smallest of tots become mesmerised by its pages . . . kids as young as one poking their baby fingers into those iconic holes through a strawberry, a pickle, a slice of watermelon . . . I can still feel the gentle scratch of my own toddler finger caught in the munched holes of those foodie delights.
Books that absorbed us when we were very young tend to remain with us lifelong. They are stored in a particularly soft part of the heart so that even looking at the book cover sends us whinging back to a childhood long gone. One of my greatest joys and comforts as a child was curling up with picture books on the couch, lolling on the carpet with them or tucked into bed with the soft lull of my mother's voice bringing the images to life. The Very Hungry Caterpillar is one of my earliest book memories for me.
I remember the numbing quiet of the very first page, with that egg on a leaf by moonlight – and how Mum would almost whisper those opening words.
I remember how wriggly cute that caterpillar was as a baby and how juicy he became after his indulgences.
I remember being astounded at the quantity a caterpillar could eat in one sitting, and also being a little concerned about how much trouble he would be in if he got caught nibbling holes in all that delicious food.
I remember feeling kind of annoyed he'd made those pesky holes (and also annoyed it wasn't ME who'd made them).
I remember feeling consistently surprised at that long list of goodies, as each flap was turned to reveal more more, no matter how many times the book was read to me. I also remember telling my very patient mum, over and over, which items I would like to eat and which I would NOT, Thank you very much.
I remember that final page when the wings of that butterfly would open and make my little girl's eyes wide and draw my hands out to touch the colour.
Decades later, when reading The Very Hungry Caterpillar to my own kids, I was transported back to those times when reading with Mum. I loved to witness the same wonder and almost exact same physical movements the book inspired in my children, as it once did in me. Something I noticed when reading Eric Carle's beautiful book to my kids, is that I brought my own traditions to the reading – adding to the ones my mother had created before me. On the final page of the book, for example, I couldn't help but flap those pages together gently and raise that book up into the sky so the butterfly flew away. This simple action really hammered home the message of freedom and transformation for my kids, and I can still see their little faces upturned in wonder as that butterfly flapped into the heavens.
Of course, there were plenty of little baby fingers jammed into caterpillar holes, too, and many times I replaced The Very Hungry Caterpillar as its pages were ripped and maimed by toddler kindness. To me, as a children's author myself, there is nothing more wonderful than a book that is ripped and maimed by the love and desire to touch and explore that children so naturally express. I can only dream my books will be similarly 'adored' one day, and if you're anything like me––with an uncontrollable addiction to children's books––you'll just buy two (or ten) copies of your child's favourite book––one to keep and one to 'love'.
I must admit, I've still kept those maimed versions of The Very Hungry Caterpillar, too––dog-eared and torn, wrinkled and warped––crushed with adoration. Eric Carle should be proud.