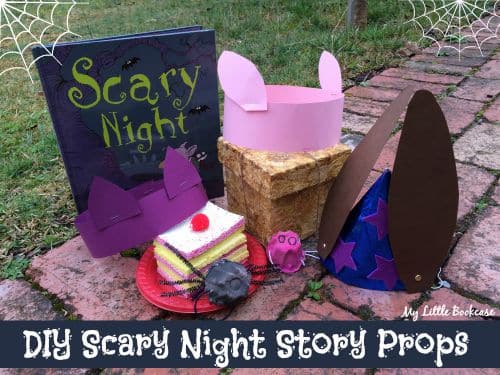 For Reading Hour last year, my children and I dressed up and re-enacted a new book we had recently purchased, Scary Night by Lesley Gibbes and Stephen Michael King along with other fantastic read-alouds. After an adventurous and fun-filled night of stories, I tucked my children into bed and realised Australia had its very own version of We're Going on a Bear Hunt.
Once upon a scary night, three friends set out on a journey.
Hare with a hat, Cat with a cake, Pig with a parcel.
Just like We're Going on a Bear Hunt, Scary Night is a wonderfully captivating story for young children. Its clever use of exciting verbs and prepositions makes it wonderful for re-enactment but there are also many opportunities for children to join in with the repetitive phrases and SCREAMS as three likeable characters wander through the night to a secret destination!
But where were they going in the dead of the night, tip-toe creeping in the pale moonlight?
It was a mystery!
Given how much my children have enjoyed the story and our re-enactments, I'm not surprised this book has been shortlisted for the 2015 Early Childhood Book of the Year. I hope this becomes a book that you can find in every Australian home, kindergarten, preschool, early learning centre and classroom.
Over hill and over dale, through the woods and down the trail.
Across the creek, watch your paws, crocodiles have snapping jaws!
Using standard supplies, I've got some ideas to help you make simple costumes and props for re-enacting Scary Night. Make them to use during Book Week 2015 or enjoy the story for many years to come. With the help of an adult, these props are definitely easy enough to be made by young children!
Were they scared? You bet they were!
Did they shake? You bet they did!
Did they give up? Of course they didn't!
On they went.
Hare with a hat, Cat with a cake, Pig with a parcel.
SCARY NIGHT BOOK DETAILS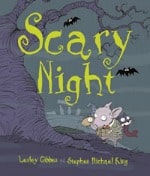 Scary Night
Author: Lesley Gibbes
Illustrator: Stephen Michael King
Publisher: Working Title Press, 2014
RRP: $24.99  Available through The Kids' Bookshop
HOW TO MAKE SCARY NIGHT PROPS AND COSTUMES
Have fun with your little people preparing, creating and using your Scary Night props with these simple instructions.
HARE WITH A HAT
You will need:
Blue or purple cardboard party hat
Purple or blue sticky-backed felt stars
Brown cardstock
Split pins (optional)
1. Decorate your party hat with star-shaped stickers.
2. Cut ears out of the brown cardstock and attach them to the hat with split pins (the split pins allow you to lift Hare's ears when he is scared or surprised. Otherwise the ears can simply be stapled to the hat).
CAT WITH A CAKE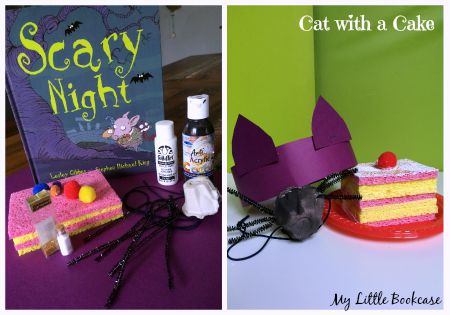 You will need:
1  egg carton cup
Black Paint
6 short, black pipe cleaners
Elastic
Purple (or black) cardstock
Household sponges
Glue
White paint or felt
Glitter
Pom poms
1. Paint the egg carton cup black and stick the pipe cleaners to the inside of the cup to look like whiskers. Then make holes in each side of the egg carton cup before threading and tying the elastic to create a cat's nose and whiskers.
2. Cut two cat's ears from the purple cardstock and staple them to the front of a purple cardstock headband (Measure around your child's head before stapling/securing the band).
3. Turn your household sponges into a cake and decorate with glitter and pom poms using these Easy Peasy Glitter Sponge Cake instructions from Kate Grono of The Craft Train.
PIG WITH A PARCEL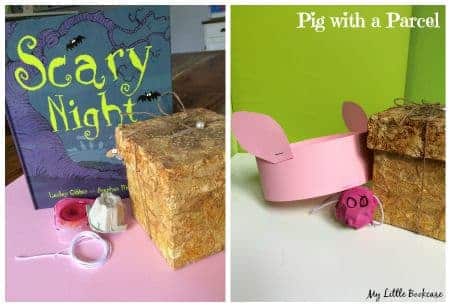 You will need:
1 egg carton cup
Pink paint
Elastic
Pink cardstock
A box (if you don't already have a box available simply wrap a cube shaped item in wrapping paper)
1. Paint the egg carton cup pink and draw two nostrils on the front before threading and tying the elastic to it.
2. Cut two pig's ears from the pink card stock and staple them to a pink-cardboard headband (measure your child's head before stapling/securing the band in place).
Feel free to use these ear templates as a guide for your animal headbands. Simply download and print the templates then trace onto the coloured cardstock.
SETTING UP YOUR SCARY NIGHT SCENE
Once you've prepared your props, set up an obstacle course to represent these parts of the story
Over hill and over dale
Through the woods and down the trail
Across the creek
Past the cool and rocky cave
Climb the mountain
Along the path and up the stairs
And don't forget to finish your re-enactment with some party poppers and cake!
And hold onto your props (maybe in a story basket) because I can guarantee your kids will want to re-enact this story over and over again!
Like this post? You might also like our other Book Week ideas.
Stay connected:
Be sure to join one of our communities for more literacy-based inspiration, or subscribe to our mailing list so you don't miss out on future posts.