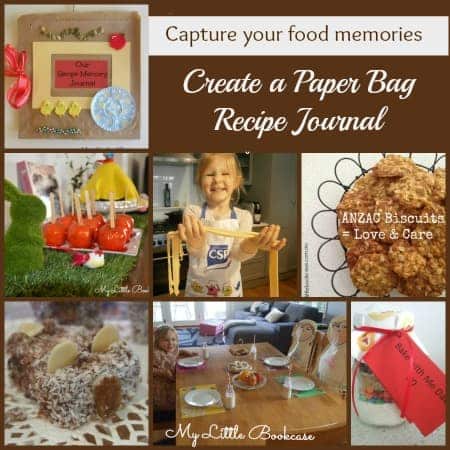 This activity was originally published in Tiny and Little Magazine's Food Issue, 2011.
I'm thrilled to share my love of baking with Cam, and I'm keen to capture the memories we are creating in the kitchen. I'm always taking photos of her licking the spoon or demonstrating new skills in the kitchen, but I needed a way to make sure these photos didn't sit dormant on the computer hard drive.
Most of my favourite cookbooks are the ones that feature a compilation of recipes that have been passed down through generations or shared between friends.
So, inspired by the  style, layout and warmth of  our favourite cookbook, My Grandma's Kitchen, Cam and I are attempting to keep a record of our recipes, cooking experiences and food memories by making a Paper Bag Recipe Journal. Creating this journal is also a a meaningful writing activity.
How to Create a Paper Bag Recipe  Journal
—Use lunch paper bags to create pages of the Paper Bag Recipe Journal
—Decorate one paper bag as the front page of the journal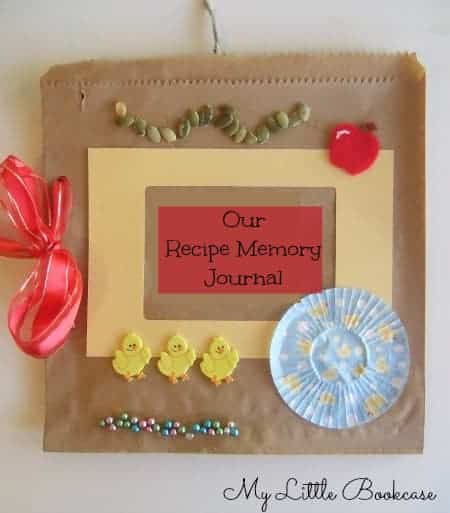 — On each of the other paper bags, write special recipes.
— Use a range of materials to decorate the bag (e.g. stickers, ribbon, seeds, cake liners, food packaging)
— Use a hole punch to create two holes on the left hand side of the bags
— Attach the paper bags together with decorative ribbon
— Use the paper bags to store memories of the cooking experience or the dish. (E.g. photos of the dish or the event, family reviews of the dish, food packaging used in the recipe)
— You can easily add extra paper bags to the journal.

Take a look at some of our favourite recipes, cooking experiences and food memories:
Afternoon Tea with Charlie and Lola
Experimenting with Real Ingredients
Story Book Christmas Party Food
Our favourite Children's Cookbooks