Last Saturday, I was feeling a sense panic as we sat still for 20 minutes at the Alexandra Parade & Nicholson intersection. Waiting to make a right-hand turn that would take us to The Little Bookroom, I was worried that we would be late for Anna Walker's book launch of Peggy, which we had been eagerly anticipating all week.
I was mostly nervous that we would walk in late and interrupt an intimate reading of the story.
As it turned out, I need not have worried. Although I secretly would have loved an intimate affair so I could have Anna all to myself, The Little Bookroom was a hive of people, and the place was certainly buzzing. Champagne was flowing and guests were treated to never ending platters of cheese. So busy was it, that I really wasn't able to capture many great snaps.
Family, friends and fans flocked to The Little Bookroom to help Anna celebrate the launch of her latest book, Peggy. It was exciting to see copies of the book flying out the door; an act that speaks volumes of Anna's talent and the quality of Peggy's story (You can read our review at the end of this post)
Artworks from the book were on display and available for purchase. They can also be purchased through Books Illustrated.
Anna spoke briefly about the book's journey. She thanked her family; her children well deserving of a thank you. We heard that Anna would often take them into the city by train at 5o'clock  in the morning so she could do some research and still get them back in time for school. Her children, as well as close friends, all contributed to some of the ideas that feature in the book. Take a look at Anna's visual timeline of the story's development here.
There were many children at the event. They were all excited to be there, and they sat intently as Anna read Peggy publicly for the first time.
"Chickens don't wear undies" chuckled one gorgeous little cherub.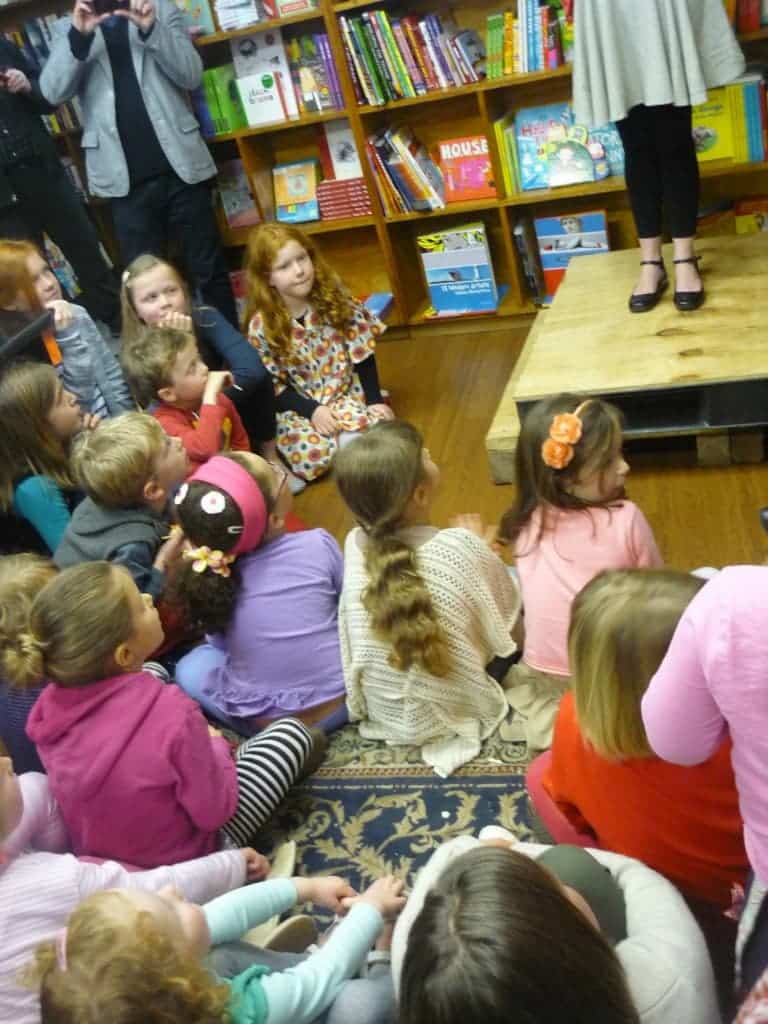 Anna kindly stayed long into the afternoon to sign books. I had packed our whole collection of Anna Walker books for signing but with over 60 people lining up, we settled on asking for just two books to be signed.
Cam was star-struck yet again. The conversation on the way home mainly consisted of , "When can I see Anna Walker again?" For the meantime, I've printed out this print for Cam to enjoy colouring.
Anna is so sweet and humble. Although having many books to sign,  she was incredibly patient and attentive towards all of her readers.  Thank you Anna for taking the time to pose with us.
And we were even sent home with a beautiful gift made by Sweet Table Melbourne- an edible Peggy.
Cam ate hers before we even left the bookshop. I held out until Monday. It was incredibly delicious.
BOOK REVIEW: PEGGY
Have you ever known a chicken to jump on a trampoline, take train trips to the city, eat spaghetti and meatballs, and shop for underwear at bargain sales?
Meet Peggy, an adventurous and playful Bantam Hen who enjoys all of these activities. She will appeal to children instantly.
Day in and day out, Peggy eats breakfast, plays in her yard and watches the pigeons. Until one day, she is picked up by a gust of wind and plonked in the middle of a busy city.
She happily spends some time exploring the city until she realises she's missing home. She tries asking for directions and following a bunch of sunflowers, but eventually it is a flock of pigeons that help her to find her way back home.
Anna captures Melbourne so beautifully in this book; Melbournians are rugged up in coats and scarves on a typically dark, overcast and windy day, but pops of colour still exist in the sunflowers and bright red umbrellas. A page of particular beauty is the streetscape of Collins Street, in which Anna has also included some photo collage.
Peggy is a sweet story but Anna's illustrations also provide many opportunities for a light-hearted giggle.  The final page most certainly leaves you with a warm smile upon your face.

Book Details:
Author/Illustrator: Anna Walker
ISBN: 978-1742832708
Format: Hardback
Publisher: Scholastic Press Australia, September, 2012
RRP: $24.99
Suitable for ages: 3+