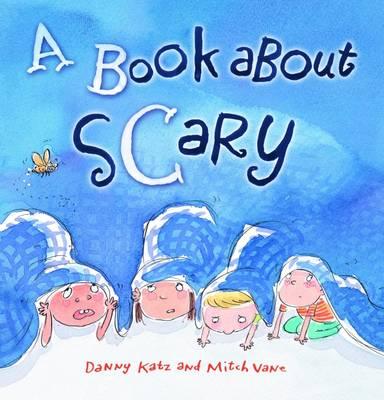 Helping your kids overcome fears is not an easy feat but, believe it or not,  with the help of this humorous book, talking about fears might actually incite a giggle.
Snakes.
I'm scared of them.
But not jelly snakes.
They're scared of me.
Especially the yummy ones that taste like pineapple.
A Book about Scary is like an encyclopaedia of fears. Mentioned in the book are universal fears, such as snakes, needles, dogs and the dark, and those that are particularly common throughout childhood such as plug holes, ripping off band-aids and vacuum cleaners. But it's the obscure fears: buttons, escalators, and knees that make light of fears.  Whatever your fear, Danny Katz and Mitch Vane probably have it covered (except possums- they haven't mentioned those scary little creatures!).
Punctuating the A-Z list of fears in the book are little thoughts and stories that help turn the thought of fears into amusing topics. One little girl wants to become a clown after overcoming her fear of them. Another little boy's fear of escalators leads him to a chocolate doughnut. But my daughter's favourite story was about a fear of moths, and a boy who eventually finds that moths are quite tasty.
The fabulous endpapers deserve a special mention. Mitch Vane has created endpapers that extend the story even further, and provide more scope for discussions about fears. It features a montage of eccentric kids sharing their fears. Children can be included in the endpaper montage by drawing themselves and their fear in the special blank spot at the back of the book.
Teamed with Mitch Vane's quirky caricatures, Danny Katz has created an entertaining 'guidebook' that all families will no doubt be pulling from their bookcases on many occasions.
Something's in the toilet. It wants to bit my bum.
Book details:
Author: Danny Katz
Illustrator: Mitch Vane
ISBN: 978-1743460443
Format: Hardback
Publisher: The Five Mile Press Pty Ltd, June 2013
RRP: $14.95 (aud)
Recommended for ages: 3+
Purchase the book:
Find this book at your local bookstore or purchase online from