This cookbook would be a great gift for any budding chef, and at the very least it would make a wonderful family cookbook- filled with creative, yummy and healthy dishes that allow you to travel the world without leaving your kitchen.
My husband and I recently took our two year old daughter, Cam, to a brilliant teppanyaki restaurant in Camberwell.  It was a huge success in which she embraced the new food.  Cam politely rejected the fork I requested for her and asked if she could "use sticks like Mummy and Daddy." She excitedly cheered other patrons as they caught egg in their mouths and asked if she could also try catching some rice bowls. It was exciting to see the restaurant filled with families and children, and all seemed to be enjoying the experience.
Australian children today have been born into a society where dishes from around the world are part of our everyday cuisine.  Although it can be fun, we shouldn't necessarily have to take them out to restaurants to introduce them to new foods.
Enter Little Kitchen Around the World.
Second to growing their own produce I think children will learn the most about food by cooking it themselves. There are currently some brilliant children's cookbooks on the market, but I believe Little Kitchen Around the World has something more to offer older children.
This is Sabrina's second children's cookbook. Little Kitchen included some more traditional children's recipes, but as is probably obvious from this title, Little Kitchen Around the World has an international flavour. As well as learning about healthy eating and basic cooking methods, children are also able to learn about flavours and tastes from around the world.
This is an adventurous book from Sabrina Parrini. I have no doubt that children will rise to the challenge of preparing dishes and meals that are not traditionally seen in children's cookbooks. I think it's parents who might need to shift their attitudes and let their children try something new. And when parents do hand over the reins to their children, they are going to be incredibly impressed when they're served a Girello Pot Roast for dinner.
Simply flipping through the pages of Little Kitchen Around the World is a delight. It is bright, vibrant, fun and brilliantly styled. It will surely encourage your child to step into the kitchen.
The recipes are broken into the categories of Lunch, Dinner, Sides, Biscuits & Cakes and Desserts. They originate from France, Japan, Morocco, Mexico, USA, Spain, Italy, Greece, India, Thailand, UK and Australia.
I particularly love the introduction of international flavours to otherwise ordinary dishes. For example, Chai Tea Cupcakes, Green Tea Cupcakes, Apple Enchiladas,  Orange Blossom  and Cinnamon Rice Pudding and Japanese-inspired Potato Gems
Dishes such as Udon Noodle Salad and Tuna Cous Cous would make flavoursome school holiday or weekend lunches. There are also many dishes that would make tasty afternoon snacks such as the Frijole Nachos, Potato Gems, and Mum's Lemon Biscotti.
The recipes, along with the ingredient and equipment lists, are extremely comprehensive. At times I found the instructions a little wordy. Having said that, I think the extra detail is probably vital for beginner cooks. No assumptions have been made by Sabrina in preparing the recipes.
Although the recipes can look overwhelming, most of them are really quite simple and quick to prepare.  There is a helpful key on each page which indicates the origin of the dish and its level of difficulty. Sabrina also provides a personal description with each dish, which may include her memories of the dish or why she included it in the book.
There is an abundance of information in the book for budding chefs including information on safety, equipment, handy hints, cooking terms and a glossary of ingredients.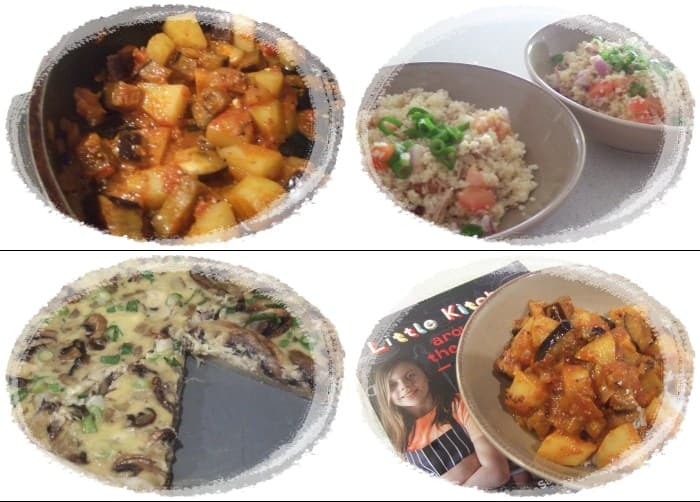 This cookbook got a good run in our house during Nutrition Week. Each meal certainly received the thumbs up from my family. We were most impressed with the intense flavours of the meals and the use of fresh ingredients in the recipes. My favourite meal was the Eggplant and Potato Curry but the Mushroom Quiche was the clear winner for the rest of the family. Because I'm terrible with my time management, the only addition I would like to have seen in the book would be an estimated time for the preparation and cooking of the dish.
By far my favourite feature of the book is the quirky but very cute wooden spoons that appear throughout the pages. They've been painted and decorated as citizens of the various countries represented in the book. They appear alongside some recipes and offer extra facts or suggestions.
Little Melbourne currently have two copies of this book to give away. Enter before 31 October, 2011
Book Details:
By Sabrina Parrini
ISBN:978-1742700434
Format: Paperback
Publisher: Hardie Grant Books, September 2011
RRP: A$29.95
Available from the Little Kitchen website