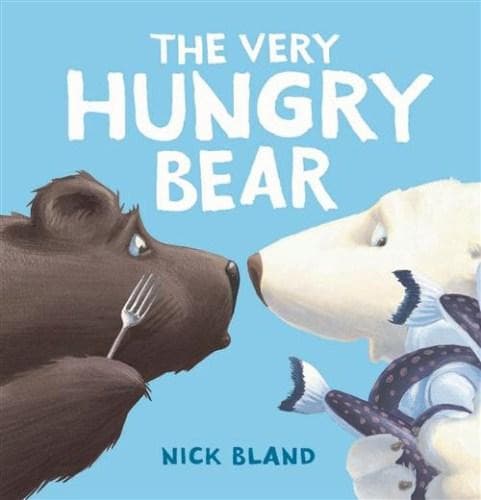 If you thought Nick Bland's storytelling couldn't get any better, you can think again. In Nick's  latest book, The Very Hungry Bear, he has, once again, treated readers to an entertaining story; rich and witty illustrations; a line-up of charming characters; and brilliant, roll-off-the-tongue rhyme.
Bear is back. He's been cranky and itchy and now he's hungry for fish. His only problem is that he can't seem to catch any. Bear finally stumbles upon the culprit who's been catching all the fish, and discovers he needs Bear's help.
Bear agrees to help this new friend find a new home in exchange for a pile of fish.
'Now a fish to a bear is like a chocolate éclair'
I always love to chat with kids about the front cover of a book before we start reading. It's a great way for them to use their prior knowledge to make predictions about the story, and also helps to develop their higher-order thinking skills.
The Very Hungry Bear is a particularly suited to this exercise. Namely, because its predecessors are so widely known and adored by children.  I am, of course, talking about The Very Cranky Bear and The Very Itchy Bear.
So here are some discussions and activities you can try, using the cover of Nick Bland's latest book, The Very Hungry Bear (some you might even discuss before sharing the title of the book):
Discussion Starters:
What do you think Bear is thinking?
How do you think is Bear feeling?
What do you think Bear wants?
Why is Bear holding a fork?
What is the polar bear holding?
What do you think the two bears are saying to one another?
Do you think the bears know each other?
What do you think this story will be about?
What do you think is the title of this book?
What foods do you think The Very Hungry Bear might enjoy eating?
Activities:
Make copies of the front covers of The Very Cranky Bear, The Very Itchy Bear and The Very Hungry Bear (but cover the titles).  Ask your children to match the correct title to the book cover by looking for clues in the illustrations (e.g. facial expression, body language, props).
Find the illustration within the book that has been used for the front cover. Are there any differences? Which illustration would you have chosen from the book to appear on the front cover?
Think of other emotions/verbs Bear might feel/experience (e.g. proud, tired) and create front covers for some more Bear sequels.
Book Details:
The Very Hungry Bear
By Nick Bland
ISBN: 978-1742831701
Format: Hardback
Publisher: Scholastic Australia,  June 2012
RRP: $15.99 (aud)
Suitable for ages 2+