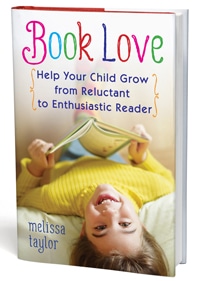 I'm simply thrilled to have  the super-clever Melissa Taylor, of Imagination Soup, visit My Little Bookcase to share her bookish knowledge and expertise. Today, she is sharing a fun reading strategy to help improve your child's reading fluency.
Visit her blog, Imagination Soup, for wonderful reading tips and book recommendations. You can also find more of her reading ideas in her new book, Book Love: Help Your Child Grow from Reluctant to Enthusiastic Reader.

Want to make reading fun, and improve your child's reading fluency? Get silly with your voices!
Start at Birth
Keep doing what you're already doing – reading aloud to your child from birth.
When you read to your child, remember to read with inflection and exaggerated, unique, or silly voices for the different characters.
In her 10 Read-Aloud Commandments Mem Fox says, "Read aloud with animation. Listen to your own voice and don't be dull, or flat, or boring. Hang loose and be loud, have fun and laugh a lot.
When you do this, you're providing a model for your child for him to imitate you (eventually).
Learning to Read
Now, your precious child is learning to read. And it's a challenge to get him to read aloud to you. Then, when he does, it's halting.
You want his reading fluency to improve. In other words, the ability to read smoothly, the way a person talks. This is important in comprehension. When you read fluently, the child keeps the words in short-term memory. Conversely, when you read haltingly, the words leave the short-term memory and there's no comprehension.
A fun way is to do exactly what you have done all these years – read with inflection.
Silly Reading Voices
Help your child read aloud using silly voices.
Trade off reading. Have your child pick a silly voice for you to use while you read. Then have her pick a silly voice to use while reading.
Want a bookmark of silly voices? Here's a free printable bookmark you can download by clicking here
The important thing is to have fun.
Great Reads for Silly Voices
Can I Play Too? By Mo Willems
The Pigeon Finds a Hot Dog! By Mo Willems
Pete the Cat: I Love My White Shoes by James Dean
Rhyming Dust Bunnies by Jan Thomas
Skippyjon Jones by Judy Schachner
Lulu and the Brontosaurus by Judith Viorst
Good Night, Good Knight by Shelley Moore Thomas
What silly voices do you like? What books would you add to our list?
About Melissa:



Melissa Taylor is a mom, teacher, writer, and blogger at Imagination Soup.