Stephen Michael King knows how to evoke emotions with his sweet illustrations and colourful text, and I Love You Too most definitely warms the heart.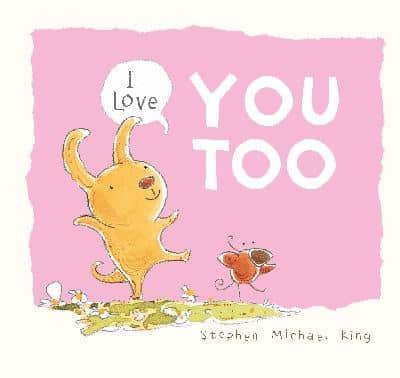 Stephen's pastel coloured sketches and quirky annotations depict four friends experiencing a range of adventures; rolling down grassy hills, flying kites and jumping in puddles.
Together, they experience all types of days, and it doesn't matter if they're shivering on a rainy day, tangled on a wet day or sneezing on a sunny day because they know they love each other; they always seem to find a way to solve any problems they encounter.
'Whatever the weather there's something I know,
You love me and I love you too.'
As a stay-at-home mum, I'm particularly fond of this book, feeling that it reflects my days with my children so aptly. We too share amazing days and wonderful adventures together. But, like many relationships, we have stormy days too when we don't always see eye to eye. It's always our love for each other that sees us to the end of those stormy days though. Somehow we seem to iron out any crinkles in our day and we fall to sleep with a cuddle and a smile.
It really is the perfect book to give to family or friends on Valentine's Day.
For more Valentine's Day themed books, take a look at this cute book list.
Book Details:
Author/Illustrator: Stephen Michael King
ISBN: 978-1742834979
Format: Hardback
Publisher: Scholastic Press Australia, January 2013
RRP: $24.99
Suitable for ages: 2+