We love Oliver Phommavanh's work… he is an entertaining, engaging and relevant writer for middle and upper primary readers, regularly writing content around the themes of friendship and diversity.
We're quite lucky to have Oliver visit My Little Bookcase today to share the inspiration and research behind the story of his latest book, The Other Christy (perfect for girls in middle and upper primary).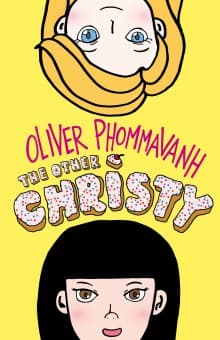 You've got a Friend in Me- guest post by Oliver Phommavanh.
In my latest book, The Other Christy, I drew on my personal experiences as a teacher. I had classes with kids with the same name. Every class had its different way of telling the two or three kids apart, whether by using their surnames like Julie B and Julie W, or by variations of their names, Matty and Matthew. In one particular class, the two girls couldn't be further apart. One was loud and hogged the spotlight with her presence. The other girl was just that…the other one; The shy girl who only said something when I marked the roll. She was a bright girl, but she just couldn't come out of her shell. She wanted more than anything to have a friend and be heard.
The two girls never became friends in my class. But in my head I kept thinking what if?…what if two girls with the same name become unlikely friends? It follows a similar trend in my books, where two characters worlds apart, come together. In Con-nerd, Connor is a nerd who befriends a cool troublemaker kid. I'm fascinated by these friendships because it's a reflection of what I see in the playground. For every conventional friendship brought together with a common interest like sport, there are friendships that are formed through circumstances, like being forced to do a project together.
All my books have themes of friendship. It's funny that friendship is an actual theme but I don't mind the tag. Friendships are family you can choose. It's a ripe area for drama and laughs. One of my favourite books of all time is Robin Klein's Hating Alison Ashley. I thought it perfectly captured the dynamics of friendships, especially ones between girls. Erica Yurken and Alison Ashley started off as rivals and ended up friends. Erica never saw it coming. Christy Ung would never have thought she could be friends with her enemy, but she gives Christie a chance and lets her guard down.
Christie Owens is a queen bee in class, but her besties become beasties and she's left on the outer. I've seen friendships and groups form, break and make up over the course of a year. Nobody stays popular forever. Kids change. It all makes for interesting and funny stories.
More recently, I've enjoyed Randa Abdel-Fattah's Friendship Matchmaker series. In these books, Lara spends her time matching kids together at school, but she doesn't really have a friend herself. Abdel-Fattah nails the playground politics that go on at school, and I found myself nodding at those awkward moments kids have when they first meet new people.
Friendship books are not meant to show kids how to make friends. It's not as easy as kids just having to be nice to make friends. If anything, it's more like being yourself and finding your tribe. Even so, I think when kids read these kinds of books, they will relate to the characters without thinking too hard about any morals. It will come to them in a different way when they reflect on the story. I think about all the friends I've made at school, and they were more than just being stuck together in a class. The friendships that are genuine and enduring have a quality that is more than just common interests. It's a bond and it's something that I try to capture myself when I write my stories.
Book Details:
Title: The Other Christy
Author: Oliver Phommavanh
ISBN: 9780143505723
Publisher: Penguin Australia, June 2016
RRP: $16.99
Look out for these other titles:
Click the book covers to visit The Kids' Bookshop for more details on these books by or recommended by Oliver: