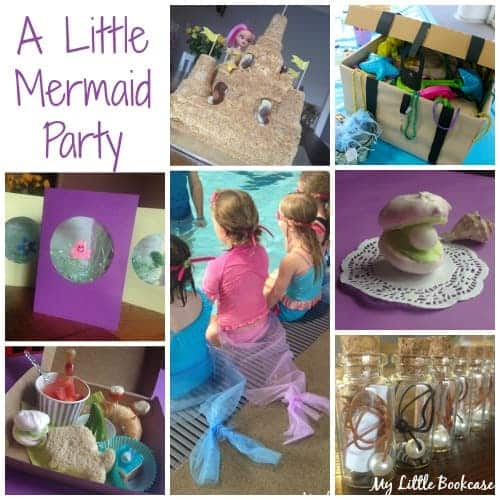 Originally written by Hans Christian Anderson, The Little Mermaid has been a much-loved story in our home for so many years -as have Three Little Mermaids and The Singling Mermaid. Mermaids have certainly captivated Cammy and her playful imagination, and inspired the underwater theme of her 5th birthday party.

Cammy's 5th Birthday- A Little Mermaid Party
Mermaid Party Invitations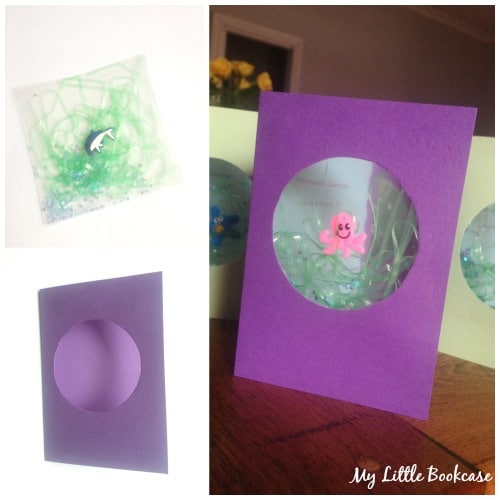 Cammy's request was for an invitation that 'makes you feel like you are in the sea'. I tried to achieve that by creating guests with a 'window into the sea'.
We started with a piece of folded cardstock, cutting a circle into the front half.
We then filled and secured a cellophane bag with mini aqua and purple star sequins, green shredded plastic strips and sea creature loom band charms.
Once the cellophane bags were secured, we attached them to the inner side of the circle cut out and the wording for the invitation was secured to the opposite side of the card- effectively creating a 'window to the sea'.
Mermaid Party Table Setting and Decorations
Cammy's party was held at our local indoor swimming pool, which provided table cloths and coloured balloons. We added to the atmosphere by adorning the tables with collected shells, colouring sheet placemats and sand pails filled with colouring pencils.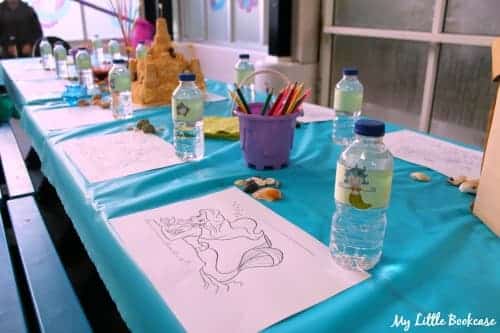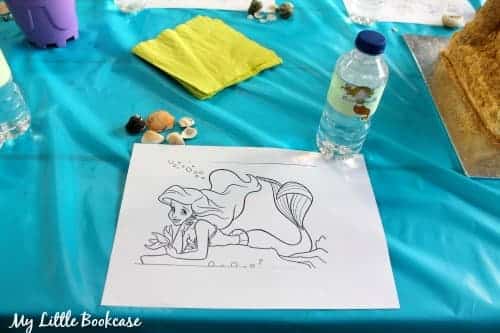 To make the treasure box I wrapped a box and lid in brown paper and embellished it with black cardboard (e.g. padlock). I filled the treasure box with newspaper before adding bits and bobs you might find in The Little Mermaid's grotto e.g. jewellery.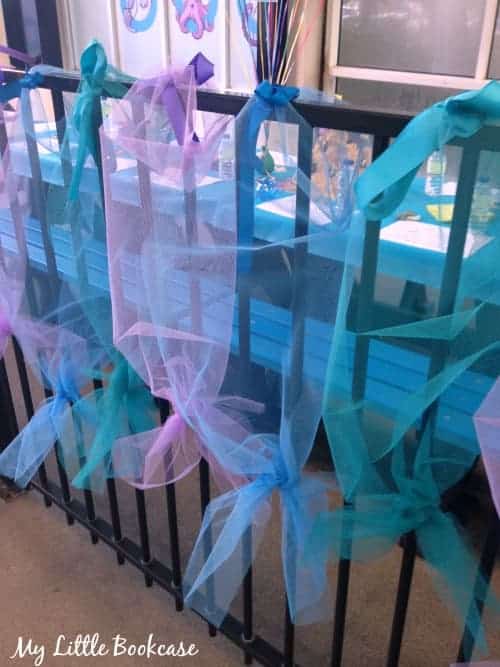 Our easy DIY mermaid skirts doubled as decorations along the fence. (Cammy got the idea for mermaid skirts from Childhood 101 but being completely useless with a needle and thread I had to think of a no-sew alternative)
I cut lengths (approx. 1m x1.5m.) of tulle in pink, purple, aqua and blue.
I used two separate elastic bands to gather and secure the two bottom corners of the tulle, creating a mermaid fin. I then brought the two elastic bands together and tied small strips of tulle around the elastic bands to cover them.
Initially the skirts were going to be no-sew mermaid skirts (because I can't sew!) but at the last minute I asked my sister to sew lengths of ribbon to the top corners of the skirts for easier tying around the waist.
Note: As it turns out I think the no-sew option would have been better because the strength of the water pulled some of the ribbon away from the delicate tulle as the children played in the water. Otherwise the skirts were beautiful in the water, gliding across the surface as the children played and swam.
Mermaid Birthday Party Food
The sandcastle cake at Paging Fun Mums provided the perfect inspiration for Cammy's birthday cake. We didn't follow the instructions exactly; I made cakes according to the size and shape of the cake tins I already had at home. My only piece of advice is to crumb the biscuits as you go. I crumbed all mine at the beginning and could have filled a truck with the leftover crumbs.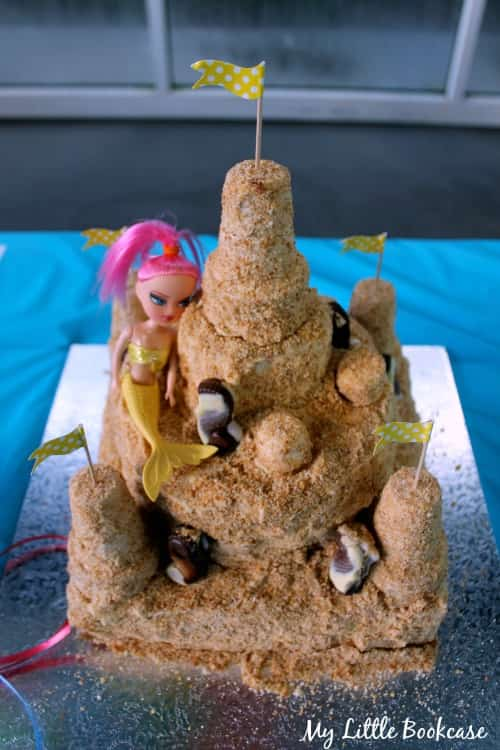 The meal boxes I made for our Bear Hunt Picnic were such a success that I decided to borrow the idea for Cammy's birthday party. Once prepared, meal boxes make food serving easy at a party.
I purchased boxes that looked somewhat like clam shells. Cammy had free-range and enjoyed decorating the tags with stamps and underwater-themed stickers.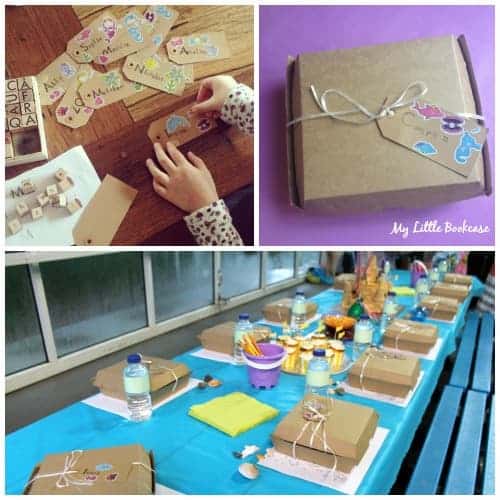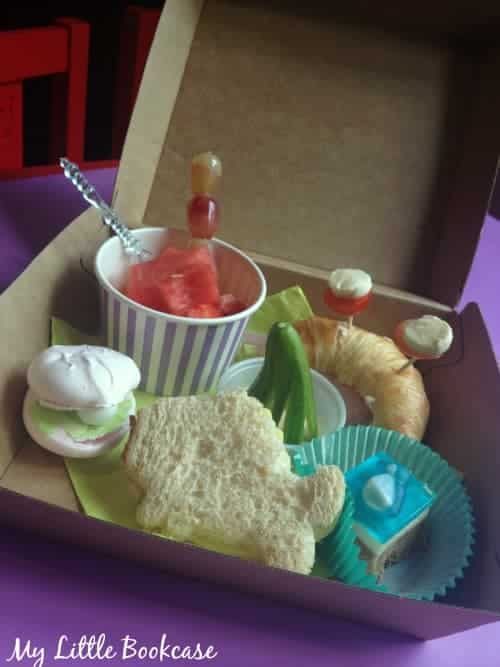 The meal boxes were filled with:
Fish-shaped Sandwiches (I love themed cookie cutters!)
Croissant Crabs (I adapted this idea, using cherry tomatoes and mini bocconcini cheese on the toothpicks)
Penguin Jelly Slice (using a classic Woman's Weekly recipe)
Cucumber Squid (I had seen squid frankfurts at Frog, Goose and Bear but because I was preparing the boxes in advance and didn't have access to a stove or microwave I opted for a cook-free alternative and tried using mini cucumbers instead)
Starfish and Seaweed Fruit Cups (Watermelon simply cut using a star-shaped cookie cutter and grapes threaded onto a toothpick for a seaweed effect)
Oyster and Pearl Shells

I really wanted to make the macaron version but chickened out at the last minute and stuck with what I knew- meringues.
I tinted my meringue with pink food colouring and dropped dessertspoon quantities onto baking paper to make mini meringues.
Two mini meringues were secured together to look like an oyster shell using green butter-cream icing and a mint ball

Homemade Smoked Salmon Dip (400 g of chopped smoked salmon, a handful of chopped chives  and a squeeze of lemon stirred through 1/2 cup each of sour cream and cream cheese, topped with a capsicum octopus- A cute idea I borrowed from Denna's Ideas)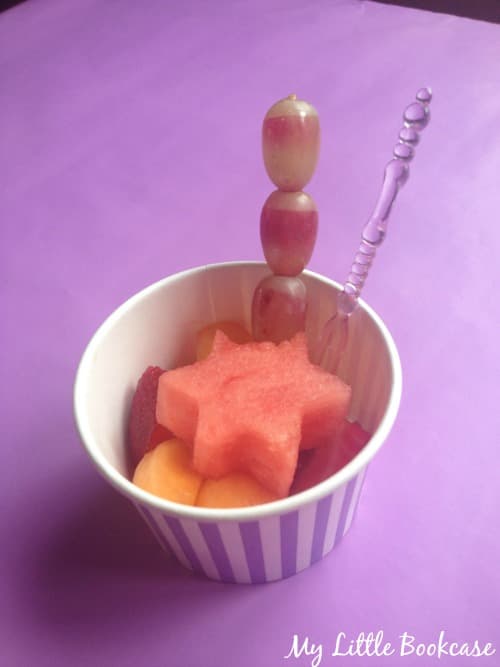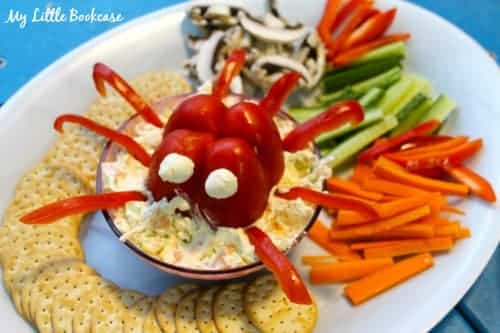 Mermaid Party Fun and Games
The children had free water play for most of the party, but there were three fun games we organised:
An underwater relay: Teams of children had to swim through hoops of seaweed and back to the pool wall.
Octopus, Octopus, May I Cross the Sea?: Played like Crocodile, Crocodile May I Cross the River? across the pool.
Sea dive: Children were invited to swim to the bottom of the sea to collect weighted treasures.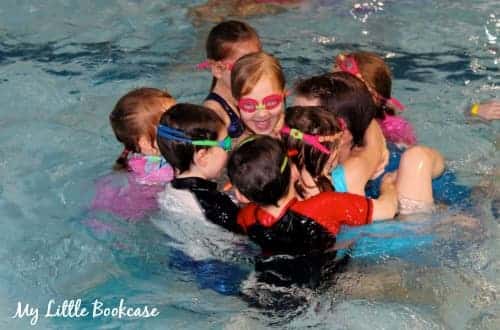 Mermaid Party Thank you Favours
I'm always looking for sugar-free favour alternatives but Cammy fights me tooth and nail on this idea. We came to a compromise and filled a blue organza gift bag with one octopus lollipop (decorated  with tissue paper and pipe cleaners), gold coins and a pearl necklace.
We made the necklaces with faux pearls on thin leather straps and placed them into mini bottles with  mini thank you notes-so adorable!
Huge thanks to my sisters for helping and taking photos on the day of Cammy's party.
Like this post? Stay connected:
Be sure to join one of our communities for more literacy-based inspiration, or subscribe to our mailing list so you don't miss out on future posts.