I've been thinking about how little bookworms might like to prepare for Christmas. After all, we do enjoy reading books much more than eating chocolate, right? Maybe!
I've possibly gone a bit overboard with ideas, but I hope there's an idea here for your family. Make sure you keep scrolling down as there are six Advent calendar alternatives: A book tree Advent calendar, a little Advent bookcase, an Advent bookmark, an Advent book, an Advent book page puzzle and a family advent book.
IDEA #1: BOOK -A-DAY ADVENT TREE CALENDAR

It was on our facebook page, where one of our wonderful community members, Peta Kennedy, alerted me to the idea of a Book Advent Calendar after she saw it on Pinterest.  So, I too went pinteresting, and this is what I found:
We don't really have anywhere in our house where I could display 24 books like this, so I borrowed the idea of reading a Christmas book each day in the lead up to Christmas, but instead thought we could display the books to look like a Christmas tree.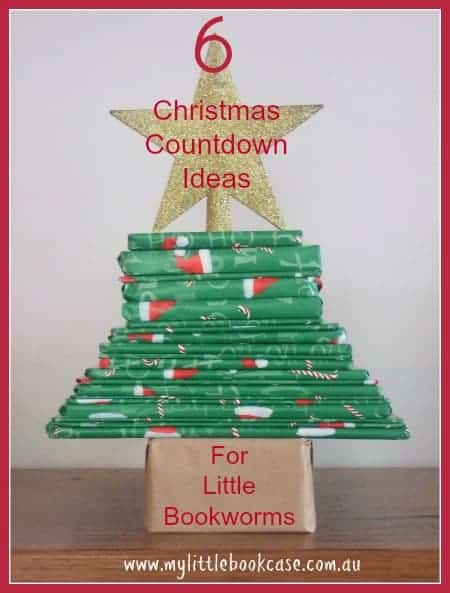 Make sure you send in photos if you create a Book-A-Day Advent Calendar for your home.
You will need:
Wrapping paper (I chose a green wrapping paper to represent leaves of a tree)
Christmas tree topper (e.g. star or angel)
Our approach:
1. Collect 24 Christmas books. Check our lists for some great book suggestions.

If you struggle to find 24 Christmas books:
Borrow some from the library (Be strategic about where you place these so you can return them by the due date.)
Buy some from a second hand book store
Look out for sales. I bought a handful of Little Golden Book Christmas stories from Target for 86 cents on the weekend (right)
Instead of Christmas books, you could use books that have a message of hope, giving, thanks, family, tradition or celebrations.
2. Wrap each of the books with wrapping paper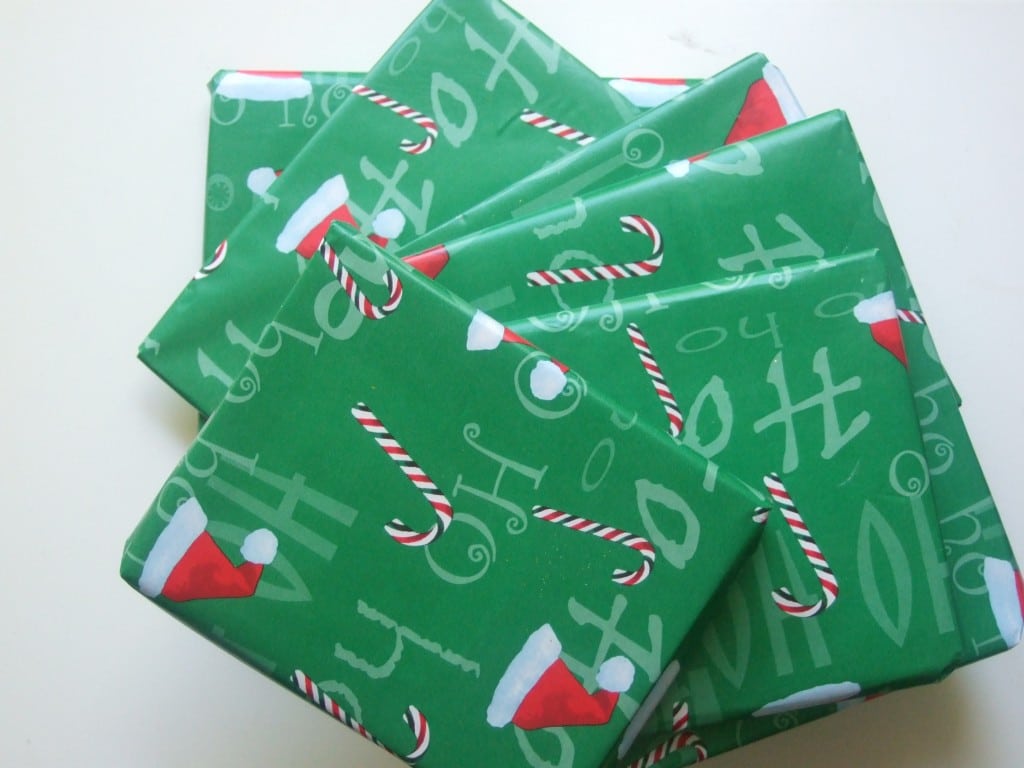 3. Order the books from smallest to largest
4. Attach the numerals to each book. The lowest number is attached to the smallest book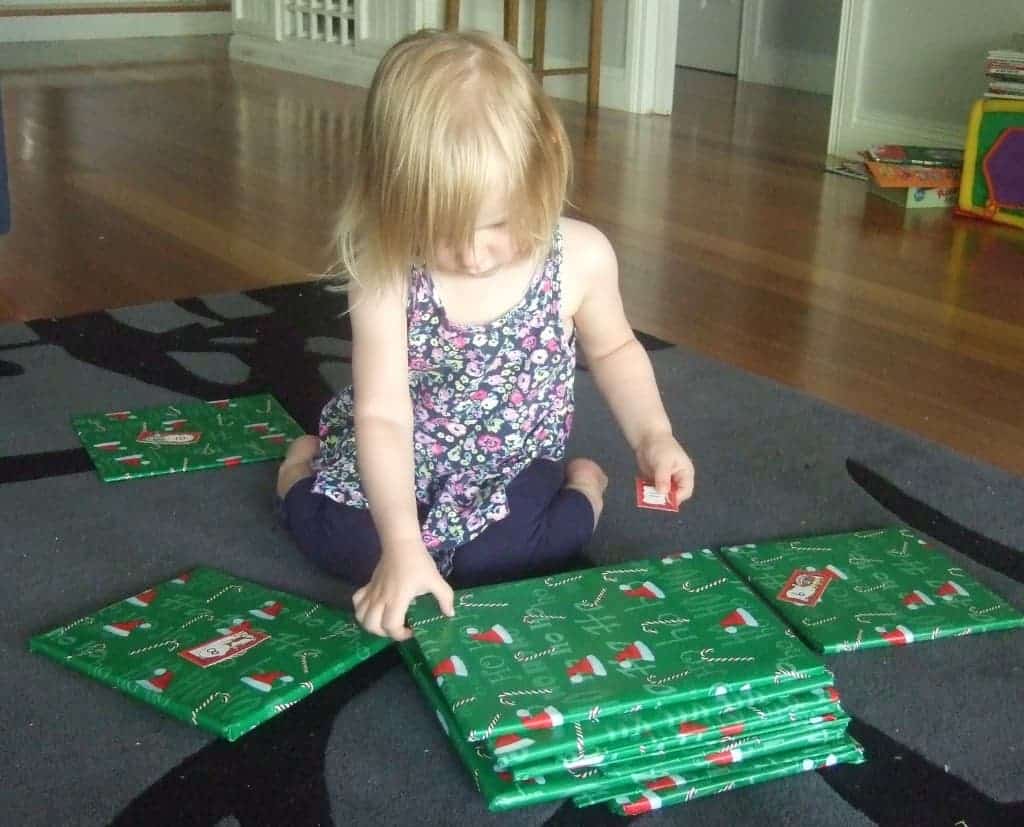 5. Arrange the books in order from largest to smallest to look like a Christmas tree
6. Decorate the tree with a star or angel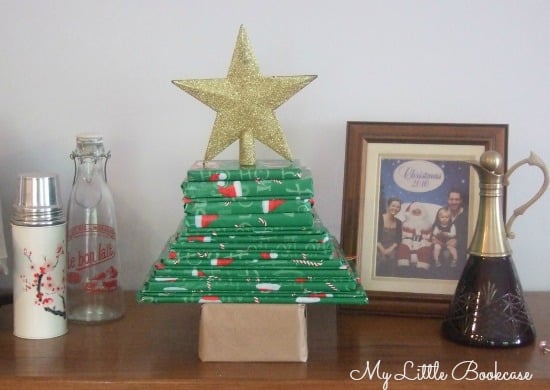 Each day, take the book from the top of the tree and enjoy reading together.
IDEA #2: A LITTLE ADVENT BOOKCASE CALENDAR
As soon as I saw these mini libraries at Playing by the Book, I knew they'd make a great advent calendar idea.
We have used matchboxes to create mini books, and together they create a mini library (Just perfect for Santa's elves too!). The mini books actually act as trinket boxes.
You will need:
24 match boxes (or mini cereal boxes for bigger treats)
Double sided tape or glue
Mini images of Christmas books
Our approach
N.B. If you want the space to include larger sized treats you can use mini cereal boxes (but it will become costly)
1. Cut one edge of the match box to create a top flap (i.e. a front book cover)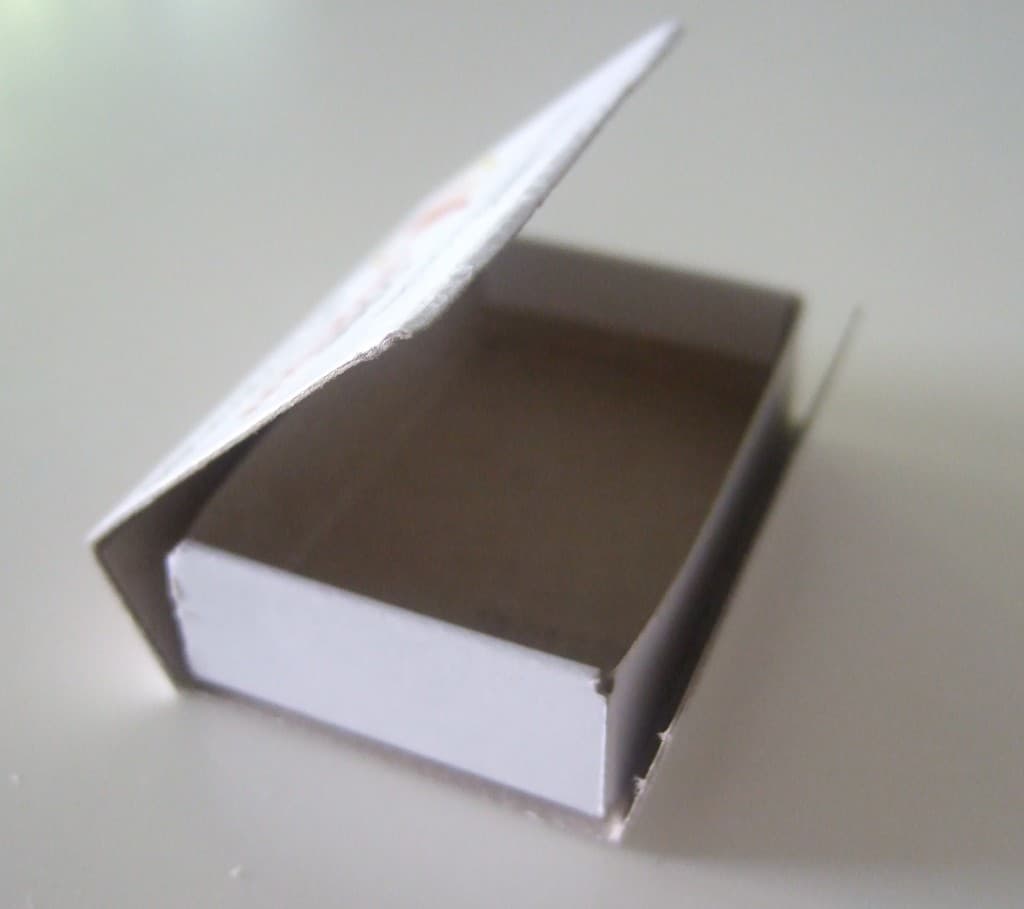 2. Cover the matchbox sleeve (i.e. the cover of the book) with paper (we used brown).
3. Use double sided tape or glue to attach the sleeve (cover) to the box so it doesn't move around
4. Cut and attach an image of a Christmas book to the front of the box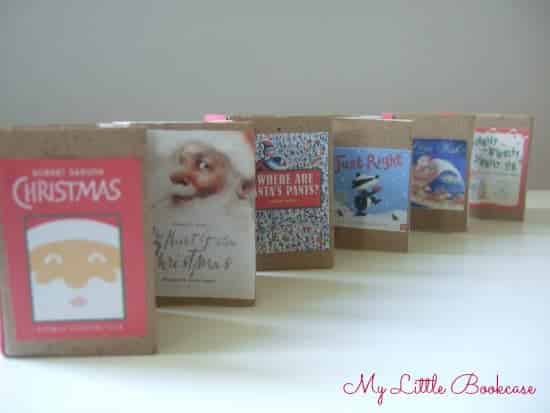 5. Repeat with the other matchboxes
6. Number the spine of each book with numerals 1-24
7. Fill each book with a treat. Here are some ideas
The traditional mini-chocolate or lolly (M&Ms, jelly beans etc.)
50c to $1 in each box. When the 24th mini book has been opened, head to the shops to buy a special Christmas book to read on Christmas Eve.
Puzzle pieces (see below)
A selection of Christmas themed goodies (e.g. Christmas jewellery, temporary tattoos, erasers, stickers, mini pencils etc.)
Mini Christmas decorations to add to the Christmas tree each day
Messages of love to one another
Or you could use a combination of these ideas
8. Once you've filled your books with treats, you'll need to find a mini bookcase. We cut the two ends of a shoebox and covered it with brown paper.
Find a place in your home to display your Little Advent Bookcase. Take one book from the bookcase each day and delight in what you find inside the book.
IDEA # 3: A-PAGE-A DAY  ADVENT BOOKMARK
As a family you could choose a special Christmas book to read throughout December. Beginning on December 1, read one page of the book each night. The majority of picture books consist of 32 pages. So, on December 24 you will probably have a few extra pages to read. Which is just as well because children can never get to sleep on Christmas Eve anyway.
You could also create a special bookmark to mark off each day of December. This is the one we created.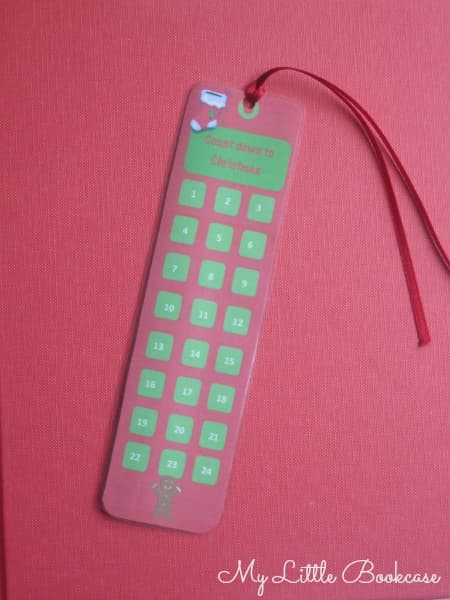 IDEA #4: READ AN ADVENT BOOK
There are lots of wonderful Advent Storybooks available,  but this one has caught my eye.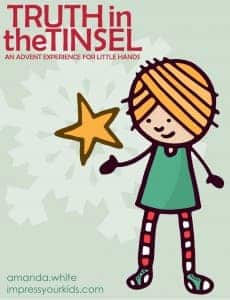 Truth in the Tinsel, written by Amanda White of Impress Your Kids, is a great guide to help you prepare for Christmas in the most beautiful way.
It really encourages you to slow down during the Christmas season to celebrate the true meaning of Christmas. There is certainly a place for indulging in presents, but it's important to also spend some time talking about the real Christmas story- the birth of Jesus.
The book includes everything you need each day to read a scripture from the bible, share a discussion with your child, and make a Christmas ornament for the tree.
Truth in the Tinsel is colourful and incredibly thoughtful. Amanda has thought of everything to make sure the process is easy and enjoyable for you: supply lists, printable templates, bible scriptures, ornament decorations and discussion starters.
Truth in the Tinsel e-book can be purchased here. (This is an affiliate link)
IDEA #5: A CHRISTMAS PUZZLE
You will need:
An image from a Christmas book
Laminating sheet and laminator
Our Approach:
1. Find an image from a Christmas book (Make sure it is a book you are happy to disassemble)
2. Remove the page from the book
3. Turn the page over and draw a jigsaw puzzle of 24 pieces (e.g. 3×8 or 4×6)
4. Laminate the page for strength and durability
5. Cut the jigsaw puzzle pieces
6. Place each jigsaw puzzle piece into your calendar
7. Beginning on December 1,  add one piece to the puzzle each day.
On December 24 you will have completed your puzzle and have a beautiful scene of Christmas.
IDEA #6: MAKE YOUR OWN FAMILY ADVENT BOOK
This activity requires very little preparation. You work on the pages of your book one day at a time beginning on December 1, keeping a record of how you prepare for Christmas each day.
You will need:
Pens, pencils, crayons etc.
Each day recount and illustrate your day together with your child. Each page of the book will record how you prepared for Christmas (e.g. decorating the tree, wrapping presents, writing a letter to Santa etc.)
On December 24, collate and bind your pages together to create your special family book.