I have quite an affection for the little girl in this story, Maudie. Maybe it's because I see a little of myself in her. My younger sister would definitely say that about me anyway. In fact, I'd say that most people who have a little girl in their lives could possibly relate a little to this story.
We are treated to five charming short stories about Maudie and Bear ('The Bike Ride', 'Home, Sweet Home', 'The Snack', 'Making Up' and 'Telling Stories'). They are the best of friends. As with most friendships, there are trials and tribulations; there are fights and peace offerings; and there are demands and forgiveness. It is a celebration of the unconditional love that a parent or imaginary friend offers.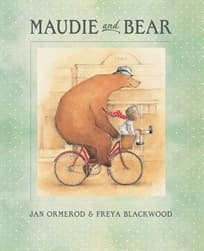 The friendship is a little one-sided. Maudie, although adorable, is quite demanding, bossy, temperamental, a little selfish, and completely unaware of all of this. After Bear makes a smiling face of fruit for her, she only manages to tell him that he's forgotten to peel the grapes and she hates oranges with pips in them.
The most amusing tale for me was seeing Maudie reprimand Bear for falling asleep while she told him a story. The closing page shows Bear telling a story while he carries a sleeping Maudie on his shoulders. Sigh.
Bear on the other hand is generous, reflective, patient, and forgiving. He waits ever so patiently while Maudie prepares herself for their bike ride, and makes Maudie a snack according to her very demanding directions: spreading peanut butter to the corners and cutting off the crusts.
Maudie and Bear is a lovely introduction to short story collections for pre-schoolers. It includes a delicate red ribbon to keep your place. The text is fairly short but the illustrations are wistful and plentiful, providing great support to a reader exploring 'chapter books' for the first time.
My daughter still enjoys the book at two years of age but I look forward to using Maudie and Bear as a springboard to discuss the way we treat others.
Book Details:
Author: Jan Ormerod
Illustrator: Freya Blackwood
ISBN:978-1921541407
Format: Hardcover
Publisher: Little Hare (Hardie Grant Egmont), October 2010
Suitable for: Ages 3+
Awards: CBCA Early Childhood Book of the Year 2011-Winner